events
Big Lunch - Free Pizza Party and Open Day
Sunday 19th June - midday onwards
Free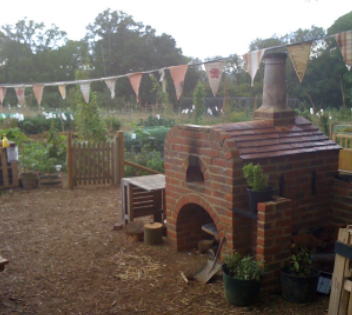 We'll light the pizza oven and provide the dough, just bring along your favourite toppings, something to drink and some friends.
What time is best to come?
Feel free to pop up anytime after midday, the fires will be burning all day.
Do I cook my own?
The idea is people press out their base, top how they wish, but we'll probably place it in the oven as it gets very busy
Do I have to be a member to attend?
No, not at all. We're hoping lots of new people will come up and have a look around.
Do I have to bring toppings?
If you don't mind a plain tomato and cheese pizza then no, not at all, simply come along at any time.
---
Barn Dance
Saturday 9th July - 7:30 until 11:30
£15 per head
The barn is booked, the band is booked, the cider is 'aging' and date is set for this year's Annual barn dance.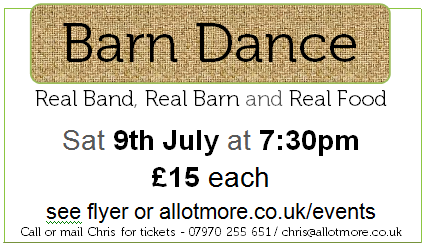 Click for more information
This has been great fun every year so far; if you're not a dancer then barn dances were made for you. With full instructions, everyone messing up and more like musical chairs than dancing, you'll fit right in.
The £15 includes delicous homemade pie and chips, with home grown meat and a veg pie too...
---
Moro Night
Saturday 27th August - 7 for 8pm until late
£5 per head
Make a dish from the Moro East Cookbook.
Moro East is a cookbook based on food cooked by allotment holders on a site in East London. The site had an interesting array of people, mainly from the Mediterranean, who cooked a lot of things on the site – The idea is to make some of these for each other.
Look through the book (there's a copy in the clubhouse) and pick a dish, or bread, etc. you'd like to make, send us a note of what you'll be making and bring the dish along on the night. We'll provide some sparkling and a few snacks; plus our own dish from the book of course.
---
Forage and Feast
Tbc - September
guided mushroom hunt and picnic
---
Apple Day
TBC - October
bring your apples to press, make some tasty apple juice and cider
---
Pumpkin Competition
TBC - October
plus carving and plenty of pumpkin soup
---