Come and grow your own
Ever thought about growing your own veg? Do you worry about where your food comes from? Are you full of good intentions but don't have the time to make them a reality? allotmore could be just the thing for you.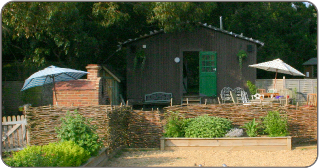 allotmore is a modern look at allotments. It's easy to get excited about the idea of growing your own fruit and veg but life sometimes makes it hard to fulfil your good intentions.
Keep up to date on Facebook:
We believe that everyone should experience the satisfaction of harvesting their own veg and knowing exactly where it has come from.
Come up and see us!
We're not simply an allotment, come look around.
To have a look at some images click on the images below:
Want to go on holiday?
allotmore gives you the freedom to go on holiday knowing that your allotment is looked after and that the weeds aren't taking over.
You pay a simple no-ties monthly subscription for your allotmore patch
Where are we?
allotmore is based at Wood Farm, Godalming, Surrey. Find us on Google Maps here.